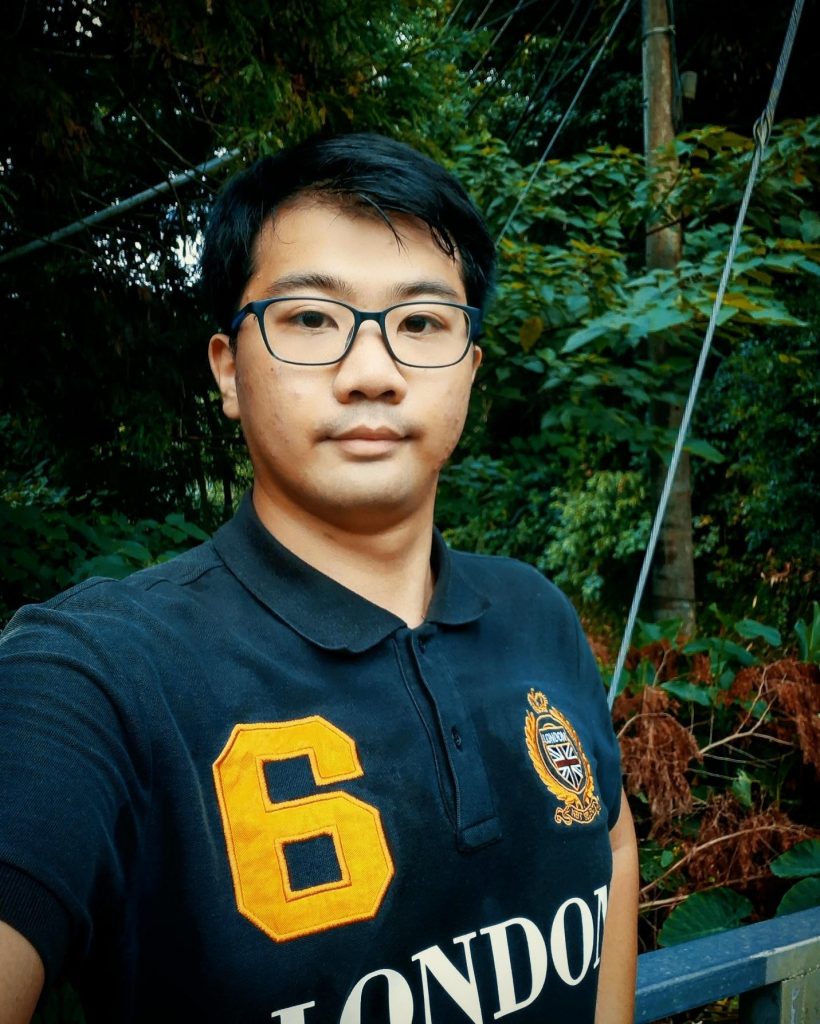 Bachelor's Degree of Life Science
Hi, I am Daniel (On You) Hwang from Korea.
Ever since high school, I have always wanted to major in Biology. Then, I had the privilege to enroll in NTNU's Department of Life Science. That was probably the most exciting moment I ever had. After I confirmed my acceptance, I started my freshman year during the fall of 2017. My impression of our university was excellent. I loved the campus environment, and the facilities were outstanding.
The Office of International Affairs did a great job helping the students adjust to their new college life. Before I came to Taiwan, they paired and introduced me to a buddy. My buddy introduced more about our department and the school in general. The staffs here were always willing to help the students. Throughout my time here, I probably had all the fun I could. I took classes, spent time with friends, met passionate professors, and participated in student activities. Currently, three years have passed, and I just moved into my fourth year. Now, I want to share some best experiences I had while studying here at NTNU.
There was so much I could learn here. While studying life science here, I learned more about the different organisms and the ecosystem of this beautiful island. During some of my lab courses, we even took a field trip to the zoo and traveled to the mountains to observe different animals. The curriculum here also taught me detailed knowledge about living organisms, scientific thinking, experimental techniques, and everything you need to know about life science. For those interested in research, there are opportunities for students to enter labs to gain experience.
I always enjoyed being around people and had the desire to attend social activities opened by student clubs and other teams. During my freshman year, I participated in an event held by our life science student association. We had to do a project based on a specific topic in biology but make it understandable to regular people. I worked as a member of another club and built my teamwork skills and idea gathering abilities. Also, attending these activities was a great way to meet new people. People here are friendly, so it was easy to make friends with them. Taiwan is a beautiful country. At times, we traveled to popular places in Taiwan and gained cultural experiences. One time, I was also invited to a Tang Yuan event opened for international students. There I met other students from different countries, and we became great friends. I thought that these activities are more than just fun events. It was also a time where I could gain valuable experience and make new friends with other students.
Studying here was a great experience. No matter what challenges of fun I encountered, every single moment here meant a lot to me.
안녕하세요 저는 황온유입니다. 
고등학교때부터 나는 생물학을 전공하고 싶었습니다.그리고 저는 대만사범대학교의 생명과학과에 진학할 수 있는 영예를 얻을 수 있었습니다. 사범대학교의 합격소식은 아마도 제 인생에 가장 신나는 순간이었습니다. 합격통지를 확인한 후 저는 2017년 가을에 신입생으로 입학하였습니다. 우리의 학교에 대한 인상은 상당히 좋았습니다.  캠퍼스의 환경은 물론이고, 시설들도 탁월했습니다. 
Office of International Affairs (국제 사무소)는 학생들이 새로운 대학생활에 적응할 수 있도록 탁월한 도움을 주었습니다. 제가 대만에 오기전에 OIA는 선배 한 분을 선정하여 주셨는데, 그 분으로부터 우리 학과와 학교에 대해서 자세한 소개를 받을 수 있었습니다. 학교의 직원들은 제가 도움이 필요할 때마다 항상 친절한 마음으로 도와주었습니다. 대학을 다니는 동안 수업을 들으며, 친구들과 시간을 보내며, 열정이 넘치시는 교수님을 만나고, 학생활동들에 참여하면서 많은 즐거움을 느꼈습니다. 이제 3학년을 마치고 4학년으로 올라가며 졸업을 앞두고 있습니다. 지금 저는 사범대학에서 공부하는 동안 있었던 좋은 경험들을 나누고 싶습니다. 
저는 NTNU에서 많은 것을 배웠습니다. 우리 학과는 저에게 아름다운 섬 대만의 다양한 생명체와 생태계에 대해서 많은 것을 가르쳐 주었습니다. 일부 실험과목에서 우리들은 동물원으로 견학을 하였고, 다양한 동물들을 관찰하기 위하여 높은 산을 올라가기도 하였습니다. 우리 학과는 교과과정을 통하여 생명체에 대한 자세한 지식, 과학적인 사고방법, 실험의 기술등의 생명과학을 연구하는 많은 지식들을 가르쳐 주었습니다. 진일보한 연구에 관심있는 학생들에게는 실제 경험을 얻을 수 있도록 실험실에 들어가는 기회도 제공하였습니다.   
나는 항상 사람과 어울리는 것을 즐겼고, 여러 학생 동아리와 다른 단체들이 여는 사회활동에 참석하고 싶었습니다.  저는 1 학년 때에 생명과학과 학생회에서 개최한 이벤트에 참여했습니다.  우리는 생물학의 특정 주제에 기반한 프로젝트를 수행하였고, 일반 사람들이 이해할 수 있도록 발표 하였습니다.  다른 동아리에서도 간부로 일하면서 팀워크와 아이디어 수집 능력을 키웠습니다. 또한 이와같은 동아리 모임에 활동하면서 새로운 학우들을 만날수 있었습니다.  대만 사람들은 친절하여 교제하기가 쉬웠습니다. 가끔씩 친구들과 대만의 알려진 명소로 여행하면서 대만의 아름다움을 발견하였으며, 또한 좋은 문화적 경험을 하였습니다.  한 때 외국인 학생을 위한 탕원(湯圓) 만드는 이벤트에 초대받았는데 그곳에서 다른 나라에서 온 학생들과 좋은 시간을 가졌고 또한 그들은 좋은 친구가 되었습니다.  제가 생각하기에는 이러한 활동은 단순히 재미있는 이벤트적 성격을 뛰어넘는 높은 가치가 있었습니다.  다른 학생들을 알아가며 좋은 경험을 쌓는 소중한 시간이었습니다.
사범대학교에서 공부한다는 것은 정말 좋은 경험이었습니다. 제가 마주한 도전들이 어떠하든지 이 곳에서의 모든 시간들은 제 삶에 많은 의미를 깨닫도록 하였습니다.