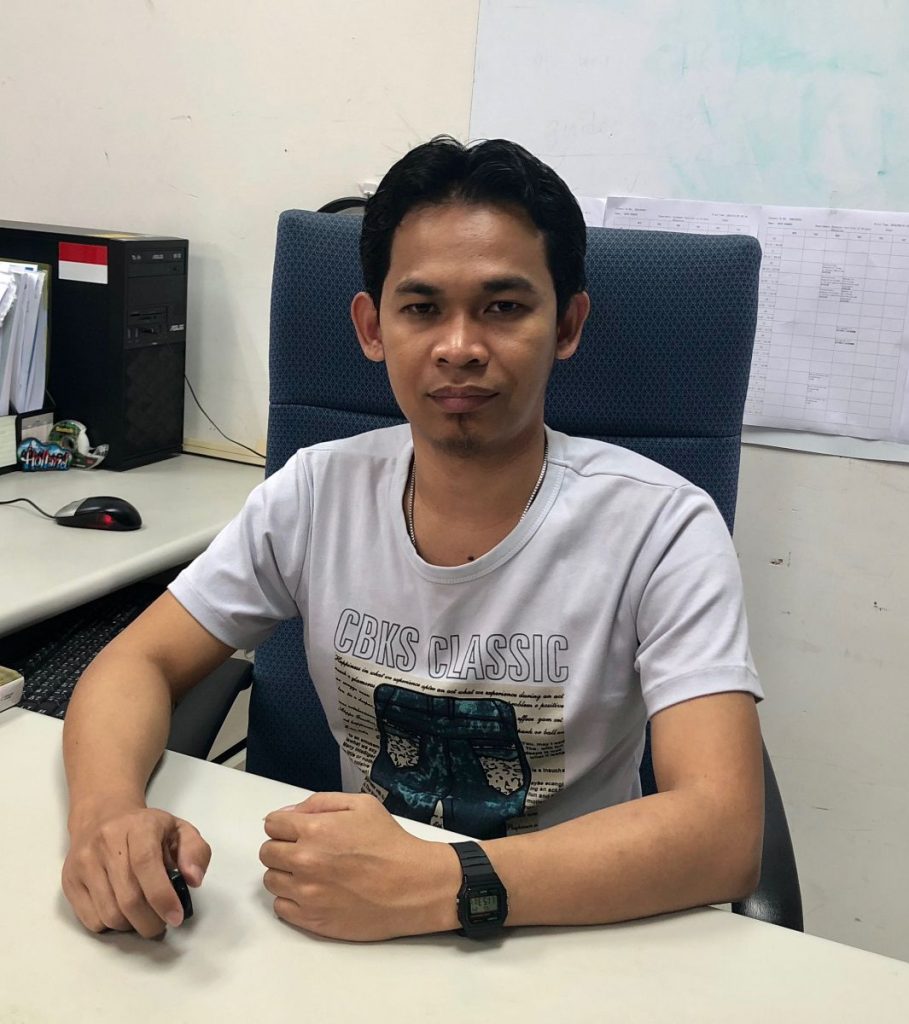 Doctoral Program of Science Education
Satisfaction and pride that I could study in this awesome country. Busy activities of lecture and research as a Ph.D. student for about one and a half years have not felt. Many tourist destinations are very easy to reach with a variety of convenient transportation modes, making the burden of lectures and research far reduced. In addition, there are many unique night markets, also a place to get rid of tired while returning from activities all day on campus. One more thing that is fantastic from this country is the attitude of openness mindset of local residents to foreigners. A great tolerance of Taiwanese makes a comfortable feeling foreigner to study, visit, or stay in Taiwan. Sincerely, I always say, &ldquoThank God for bringing me to this awesome country."
A favorable climate of lecture and research made me feel comfortable and memorable in NTNU. The combination of lectures and research is robustly useful for students from different educational backgrounds and different cultures in completing their studies. Courses that are up to date and taught by excellent professors, and supported by adequate facilities, have become a distinct impression for me during my study here. Furthermore, behind their label as a world-class professor, the professors are also very humanistic and friendly. Selecting a course is quite tricky for me because all available courses are important and deeply interesting. Coupled with the presence of invited professors from various countries each semester, making it has a different sensation. It feels like time flies so fast. The knowledge and impression that I get in this process would always be remembered for all time.
Excellent service from NTNU staff became endless talks from Indonesian and many countries friends. Work quickly, precisely, and sincerely becomes a characteristic of administrative personnel such as in the office of international affairs, office of the particular department, health care offices, etc. Without a different or special treatment between local students and international students in all services, makes the convenient to deal with. We are not afraid to make a business of all matters even without being accompanied by a Taiwanese friend. In addition, a fantastic concern of NTNU staff for all students is obvious visibly, and I felt it so much. Routine e-mails to remind me about the time of selecting courses, extending my residence permit, invitations to mental and psychological health checks, greetings on holidays, up to the messages to reminders of keeping warm in the winter are routine messages that become evidence of the awesome services provided by NTNU staffs.
Read in the original
Sebuah kepuasan dan kebanggaan tersendiri bisa menuntut ilmu di negeri yang luar biasa ini. Kesibukan kuliah dan penelitian sebagai mahasiswa PhD selama kurang lebih satu setengah tahun ini tidak begitu terasa. Banyaknya destinasi wisata yang sangat mudah dijangkau, dengan berbagai alat transportasi yang nyaman, menjadikan beban kuliah dan penelitian menjadi jauh berkurang. Selain itu, banyaknya pasar malam yang unik, juga menjadi tempat penghibur penghilang lelah disaat pulang dari beraktivitas seharian di kampus. Satu hal lagi yang sangat luar biasanya dari negeri ini adalah sikap keterbukaan penduduk lokal terhadap pendatang. Toleransi yang besar dari penduduk asli Taiwan menjadikan perasaan yang nyaman untuk belajar, berkunjung, ataupun menetap di Taiwan. Dalam hati yang paling dalam, saya selalu mengucapkan &ldquoTerima kasih Tuhan telah membawa saya ke negeri ini&rdquo.
Iklim kuliah dan research yang kondusif membuat saya betah dan berkesan di NTNU. Kombinasi perkuliahan dan research sangat bermanfaat bagi mahasiswa dari berbagai latar belakang pendidikan dan budaya yang berbeda dalam menyelesaikan studinya. Mata kuliah yang up to date dan diajar oleh professor berkelas dunia, serta didukung oleh fasilitas yang sangat memadai, menjadi kesan tersendiri bagi saya selama menumpuh pendidikan di sini. Selain itu, dibalik labelnya sebagai pengajar berkelas dunia, para profesornya juga sangat humanistic dan bersahabat. Memilih mata kuliah menjadi hal yang cukup sulit, karena semua mata kuliah yang tersedia adalah penting dan menarik bagi saya. Ditambah dengan adanya invited professor dari berbagai negara di setiap semesternya, menjadikan warna tersendiri yang mendalam. Rasanya waktu terasa cepat berlalu. Ilmu dan kesan dalam berproses ini akan selalu dikenang sepanjang masa.
Pelayanan prima dari staf NTNU menjadi pembicaraan yang tak pernah habis dari teman teman Indonesia dan banyak negara. Kerja cepat, tepat dan dengan hati menjadi ciri khas tenaga adiministrative seperti pada kantor urusan international, kantor staf departemen, kantor di pelayan kesehatan dll. Tidak adanya perbedaan perlakuan antara mahasiswa local dan mahasiswa international pada semua pelayanan di kampus, menjadikan kenyamanan tersendiri dalam berurusan. Kami menjadi tidak takut menyelesaikan segala urusan walapun tanpa didampingi oleh teman orang Taiwan. Selain itu, kepedulian yang sangat tinggi dari staf NTNU terhadap semua mahasiswa sangat terlihat dan sangat kami rasakan. E-mail rutin untuk mengingatkan tentang waktu pemilihan mata kuliah, perpanjangan izin tinggal, undangan untuk cek kesehatan mental dan psikis, ucapan hari-hari besar, sampai pengingat untuk selalau menjaga kesehatan menjadi pesan rutin yang manjadi bukti luar biasanya pelayanan yang diberikan oleh NTNU.
Source of the materials – the office of international Affairs. http://ap.itc.ntnu.edu.tw/istudent/oia/commonstyle.jsp?sno1=2014082602&sno2=2014082610&sno3=2014090502 , April 29,2020.