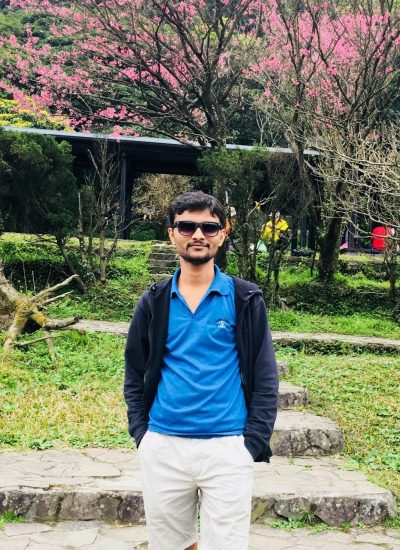 Doctoral Program of Department of Chemistry
Taiwan is a semi-tropical island in East Asia, one of the world's most exciting and rapidly growing region. Besides, Taiwan is the second safest country in the world. Taiwan was my top priority when I decided to pursue higher education. I selected National Taiwan Normal University (NTNU) for my doctoral degree as NTNU is widely known as one of the Taiwan's comprehensive and elite higher education institutions. NTNU was founded in 1922 and ranked 308th in 2018 QS World University Ranking system.
My journey towards the doctoral degree in NTNU commenced with the office of international affairs (OIA) and Department of Chemistry. OIA staff is really supportive and friendly for all international students. They often organize various activities, such as visiting tourist, historic and famous places in Taiwan, International cooking competitions, cultural exchange programs and so on. NTNU is globally recognized as the best university for studying mandarin language at Mandarin Training Center (MTC). The NTNU library full of resources like literatures, books, computers which were actually helping me a lot in my doctoral degree research. The dormitories are nicely structured and maintained with excellent facility. Additionally, it has fully equipped kitchen for cooking and high-speed internet facility. The canteen is also located nearby dormitory which offers affordable prices food for students.
After spending three and half year in Taiwan as doctoral student in NTNU, I realized my life has become more peaceful and joyful. Here, I would like give brief explanation about the research facility in NTNU, the department of chemistry is located in the college of science building at Gongguan campus. The department is well equipped with analytical instruments such as NMR, X-ray, HPLC, IR and Mass spectrometry etc. which are must needed for chemistry research. The chemistry department faculty members as well as supporting staff is really caring, friendly, and supportive for students.
The healthcare system here is considered as one of the world's best healthcare system especially because of national health insurance policy. Taiwan has a great reputation for its public transportation, expats and locals agrees that it is safe, clean, reliable with competitive fares. Notably, the riverside bikeways throughout the Taipei city displays its ecological wealth and cultural heritage. Taiwan is the best place in the world to explore, it's a small island full of greenery, mountains and of course the beaches. The coastal region is amazing to hang out and to capture some beautiful pictures. The Taipei city is popular for the huge night markets for shopping, having tasty food and special drinks.
Finally, I will strongly recommend to everyone, if you are interested in pursuing higher education in Taiwan then NTNU is best choice. Let's join us to become a part of the big NTNU family.