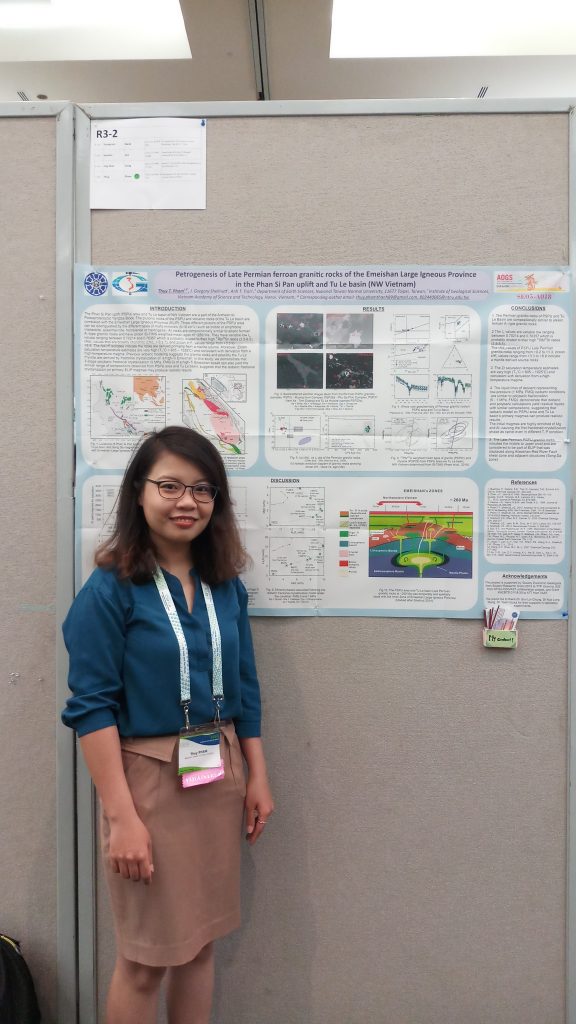 Doctoral Program of Earth Sciences
Hi guys! I am Thuy Pham, a Vietnamese girl. I just finished my Ph.D. course at the Department of Earth Sciences, NTNU. The first flight I took in my life is the flight to Taipei to start my Ph.D. in NTNU, and I have to say that flight has completely changed my life.
Before I entered the Ph.D. course in NTNU, I was a bit innocent, unaware of what is academic life is, and has no clear vision for my future career. My research skills were rudimentary, barely read and write in English, especially Academic writing. I was lucky when being picked as an international student to study Geology in the Department of Earth Sciences, NTNU. Studying and working there helped me contribute to my knowledge, strengthen my research skills, experienced most of the modern analyses in my research area, and build my research writing style. NTNU and their companions' organization have supported me in doing all the experiments essential for my research. During my Ph.D. journey, with all the help from my supervisors, the Department of Earth Sciences, NTNU, Taiwan Ministry of Science and Technology, I have presented my works in top Domestic/International Conferences in Taiwan, Japan, USA (CA and Hawaii). Moreover, I have learned how to write research proposals, high-quality academic papers that are sufficient for anyone who wants to follow research. 
Those experiences help me a lot while applying for a Postdoc position in Taiwan and find a permanent research job in my home country. Of course, Ph.D. is the most challenging journey for me, but with all the help from surrounding people, I have overcome it, and my life is so much better now.
About the living environment, I have had no problem blending in with life in Taipei. People here are friendly, warm, and kind; they are positively welcoming and helping international students. The transportation, air-environment, and healthcare system are high-quality and amongst the world's top as far as I know. I never have a problem moving around Taiwan with my rudimentary Chinese skill because English is standard in public transportation. I joined the National Health Care System and got all the treatments at low prices (some clinics are free for students).
Regarding the disadvantages of living in Taiwan, I could not enjoy Taiwanese food for the first few weeks because they did not fit my taste. However, I get used to Taiwanese food now and gained a lot of weight. Be careful, guys! It is easy to be addicted to the Buble Milk Tea, Xiao Long Bao, Spicy Sour Soup, Hot Pot, and Giant Fried Chicken. Funding is also a problem, but it is typical for graduate students in Taiwan. It can be solved by several part-time jobs (Taiwanese Universities allow students to work 20 hours per week) and funding from some professional associations. One more disfavored thing about Taipei is that it rains most days during winter, so, if you are coming to Taipei, bring an umbrella and rain boots with you.
To all the young fellas looking for a place to start your undergraduate or graduate study, I highly recommend Taipei, especially NTNU. Come and build your dream.